AUTHORFunding round now open for climate modelling and observations
Funding round now open for climate modelling and observations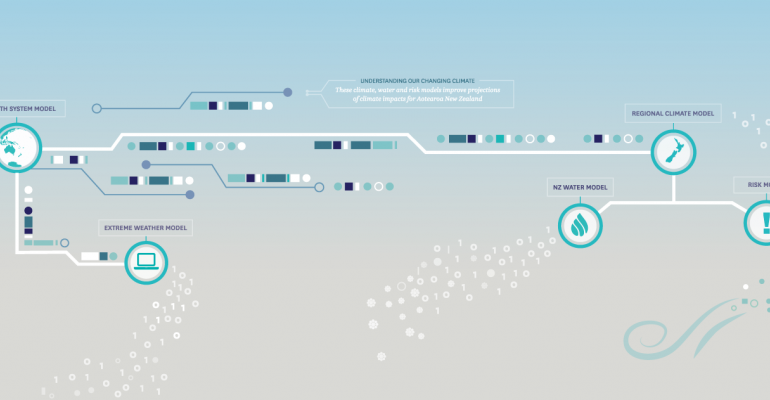 Kia hiwa rā! We're now seeking funding proposals for climate modelling and observations to support model development. This RfP builds on our Research Strategy, for projects that will begin in our second phase of research, from July 1, 2019:
Climate Modelling
The delivery of projections of New Zealand's future climate is core to the Deep South Challenge. We make these projections through a series of linked models: the NZ Earth System Model (NZESM), the NZ Regional Climate Model, and hydrological modelling. To understand climate extremes and how they may change, we use large ensembles of climate models (for example, through the Weather@Home framework).
The Deep South Challenge has allocated $4,140,000 (ex GST) over a three-year period (July 1, 2019 – June, 30 2022) to continue delivering our core climate modelling needs. We're specifically seeking proposals to collectively address the following research topics:
Production of climate projections for New Zealand using the NZESM
Research to continue the development of the NZESM
Projections of the impact of climate change on New Zealand's hydrological cycle
Large ensemble modelling to understand changes in climate extremes
Observations for Model Development
In Phase 1, the Deep South Challenge enabled the collection of significant observational datasets, to support both a greater understanding of climate processes and the integration of these understandings into the NZESM. We will now support further research which takes advantage of these datasets, and others collected by international research programmes (for example, satellite datasets). Research funded out of this RfP will increase our understanding of climate processes and support the development of the NZESM.
The Deep South Challenge has allocated $600,000 (ex GST) to fund two to three projects, for a one-year period, from July 1, 2019. We expect these projects will build on Phase 1 research, in the following areas:
Sea ice
Clouds and aerosols
Ocean processes
Submit your Proposal by Friday March 15, 2019
Find out more about this Funding Round at this page of our website. You will also find:
the full RfP form
the Funding Proposal form
Guidance to help you complete the form
Template Budget and CV documents you'll need to finish your application.
We encourage you to revisit our Research Strategy here.
Revisit our current or concluded climate modelling and processes & observations research projects.

Submit your application by Friday 15 March 2019, by emailing Lucy Jacob:

[email protected]