AUTHORUpdate on our engagement team
Update on our engagement team
The start of 2022 has seen a few changes in the Deep South Challenge engagement team. Here we say goodbye to those who have moved on, and introduce you to some new(ish) faces.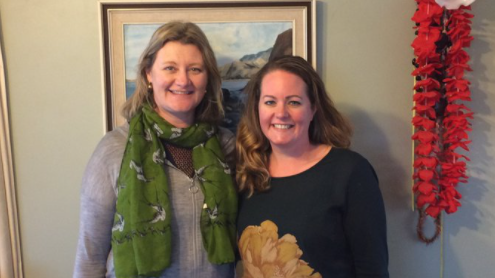 Angela Halliday, current Partnerships Director, and Waverley Jones, previous Partnerships Director.
Change in the Partnerships Director role
Waverley Jones, Partnerships Director, has resigned from the Challenge in order to follow opportunities with and for her family in Lake Taupō. Luckily for us, Angela Halliday has returned from parental leave and, along with Phil, is already picking up the Partnership Director work. Particularly for those researchers in our Impacts and Implications programme, you will be hearing from Angela soon.
Change in the Communications role
Meriana Johnson has stepped down from her communications role to spend a full year immersed in te reo Rangatira. We are lucky to have Zoe Heine stepping into Meriana's shoes. Zoe joins us from NZSeaRise, and is currently undertaking a PhD at Te Herenga Waka in climate storytelling. You're likely to be hearing from Zoe on one kaupapa or another in the coming months, and can email either Zoe or me with communications questions.
Our other Engagement Team members remain! We are:
Naomi Simmonds and Nadine Hura: Our Kaitakawaenga Māori, supporting our 17 Vision Mātauranga projects (3 existing and 14 soon to be announced).
Kate Turner: Our Climate Change Knowledge Broker, supporting researchers and stakeholders to navigate the complex world of climate data.
Alexandra Keeble: I am still playing a communications role, though working slightly further behind the scenes supporting our team with planning.