AUTHORNew Director, new challenges
New Director, new challenges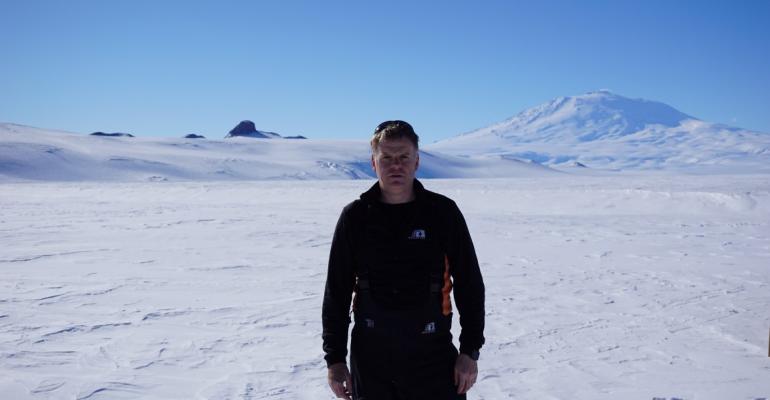 We talked to Dr Mike Williams about his new role as the Deep South Challenge Director, the challenges and opportunities and his recent research trip to Antarctica.
You've been in the Director's sea now, for three months – what attracted you to the Deep South Challenge?
I have been involved with the about the Deep South Challenge since its earliest days as the leader of the Processes and Observations Programme and part of the Science Leadership Team. I'm passionate about this issue because it's going to affect our children, our grandchildren and New Zealand society for generations to come.  The Deep South Challenge is about starting now, understanding what changes are likely to happen and in what time-frames so all New Zealanders can make better decisions around things like land-use and infrastructure, and other things that we need to plan for.  It's a privilege to lead such an important science project and to ensure it delivers for all New Zealanders. 
What have been some great things? And some challenges?
The best thing so far is seeing the Challenge established and moving forward. Over the last few years we have been slowly building the Challenge components, and next year we will see the final aspects of the core Challenge programme coming together. The biggest challenge for me is getting to grips with all the other programmes in the Challenge, and ensuring that they work together so together they can be more than the sum of the parts.  What's exciting is that are not only building on the traditional science expertise in New Zealand, we are also drawing new research communities together to build new integrative research programmes.  This of course is a challenge but we're trying to reach out to communities, businesses and other stakeholders so they can use the full spectrum of New Zealand's climate research knowledge to understand how climate change will impact on New Zealand, what the financial risks and implications are, but also where the opportunities might be.
What are some of the projects that you're really excited about?
I'm still really excited about the physical science where we are observing and understanding processes and linking this understanding to building and establishing an earth system model that utilizes New Zealand's strong heritage with ocean, sea-ice and atmospheric physics and Antarctica.  But I'm proud of the strong scientific research that we have built in all our programmes.  It's an ambitious Challenge as it tackles a variety of disciplines from ocean physics to decision making, and needs us to understand the range of impacts changing climate will have across industry and communities.
The new work I'm excited about is the series of dialogues that we are developing in the Impacts and Implications programme supported by the Engagement programme.  I think these will give us a real opportunity to listen to various sectors, hear what makes their decisions complex and open up ideas for the research that is needed to help these sectors make decisions in a changing climate.  They also have the potential to include various communities into the conversation so enabling also bring the consequences of climate change to the public.  In this way we can make the new technology and research relevant to New Zealanders and the decisions they make.
Tell us about your research in Antarctica, and how it's connected to the Deep South Challenge
We were doing field work on the sea ice of McMurdo Sound, near New Zealand's Scott Base, to validate remote sensing measurements observed with airborne equipment. We do this by comparing the airborne measurements to direct physical measurements of sea ice. I was leading the ocean component of the programme while my colleagues were taking ice and snow thickness and structure measurements. But the key part of our project was to test fly an electromagnetic induction bird (EM-bird), new technology that that is towed about 100 metres under a plane. This is the first time this has been done in Antarctica, and is the key step for us in extending our measurements to a wider region of Antarctica as this equipment will be able to go further than scientists can on foot or by towing the EM-bird under a helicopter.   
This work is a vital component of the Deep South National Science Challenge because Antarctic sea ice has not been well modelled in global climate models. Typically climate models have expected sea ice to retreat over the last few decades, the opposite trend to that seen in the observations. Sea ice is a key controller of climate processes in the Deep South region, so getting sea ice right in climate and earth system models is really important, and something we can only do with wider observations of sea ice. These observations underpin a new understanding of processes that we can incorporate into the New Zealand Earth System Model (NZESM) to better represent sea ice. This will be a potentially be major contribution to the international modelling effort.
This is part of a research programme with the Universities of Otago and Canterbury and also with Canadian and German collaborators. Find out more about the Deep South Challenge sea-ice modelling project.