AUTHORNew Director for Deep South Challenge
New Director for Deep South Challenge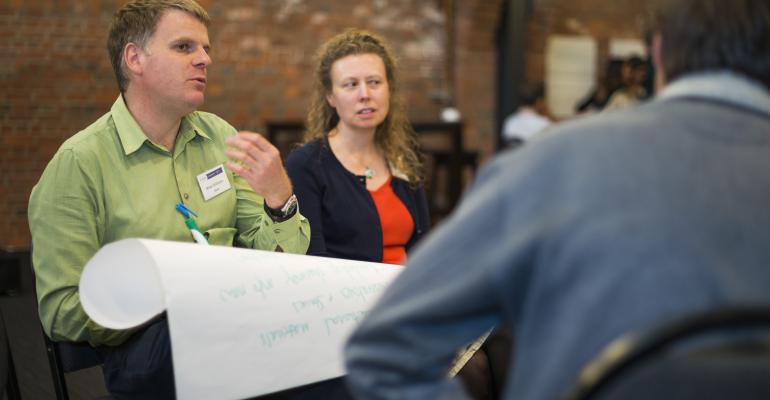 The Deep South National Science Challenge is delighted to announce two new key appointments to the team that is charged with enabling New Zealanders to adapt, manage risk, and thrive in a changing climate.
NIWA physical oceanographer Dr Mike Williams (pictured on the left above) has been appointed director of the challenge, taking over from Prof David Frame, who is returning to pursue academic research opportunities at Victoria University of Wellington.
Dr Williams has been associated with the challenge since its inception, and has been a key member of its leadership team as Science Leader for the Processes and Observations programme. His main research interests are in ice-ocean interaction, and the impacts of a changing Southern Ocean on Antarctica.
After completing his PhD in Tasmania, he worked as an assistant research professor at the University of Copenhagen, Denmark, before returning to New Zealand to work at NIWA.
Dr Williams says the opportunity to take on the directorship of the challenge was too good to pass up.
"It is a privilege to lead something that will have huge benefits for New Zealand as the impacts of climate change take hold. This role feels like a natural progression from the challenge development work I was involved in and I am keen to keep the challenge moving forward."
One of his first jobs is to establish the final parts of the challenge over the rest of this year, including the Impacts and Implications programme.
Meanwhile, the second new appointment is Dr Suzi Kerr who will lead the Impacts and Implications programme.
Dr Kerr was founder of Motu Economic and Public Policy Research, and is New Zealand's leading climate change economist. Her Harvard PhD was on international environmental agreements and emissions trading schemes, which remain a strong interest for her, but she has also conducted many studies into other aspects of climate change, particularly those relating to the land sector.
The Impacts and Implications programme will bolster and coordinate New Zealand's capacity to anticipate potential impacts, understand the implications, and plan and adapt accordingly.
"I'm excited about working with the Deep South team and researchers in New Zealand to develop a strategic plan," she said.
"Our modelling should be directed toward specific questions and produce regular outputs that are immediately useful to end users."
Deep South is one of 11 Ministry of Business, Innovation and Employment-funded initiatives aimed at taking a more strategic and collaborative approach to science investment.
One of the key aims of the challenge is to develop New Zealand's first world-class numerical Earth System Model that will simulate current climate and possible future climates under different scenarios of future global greenhouse gas emissions. This will ultimately give New Zealanders a greater level of certainty in planning and decision making in the face of a changing climate.
Contact
Dr Mike Williams, Ph 021 044 7645
Dr Suzi Kerr, Ph 04 939 4250