Tuesday, June 21, 2022
7:30 pm
Cancelled! Matariki kōrero: Ka rongo te pō, ka rongo te ao
This event has been cancelled for now, as our key speaker is unwell. Please reach out with any questions: [email protected]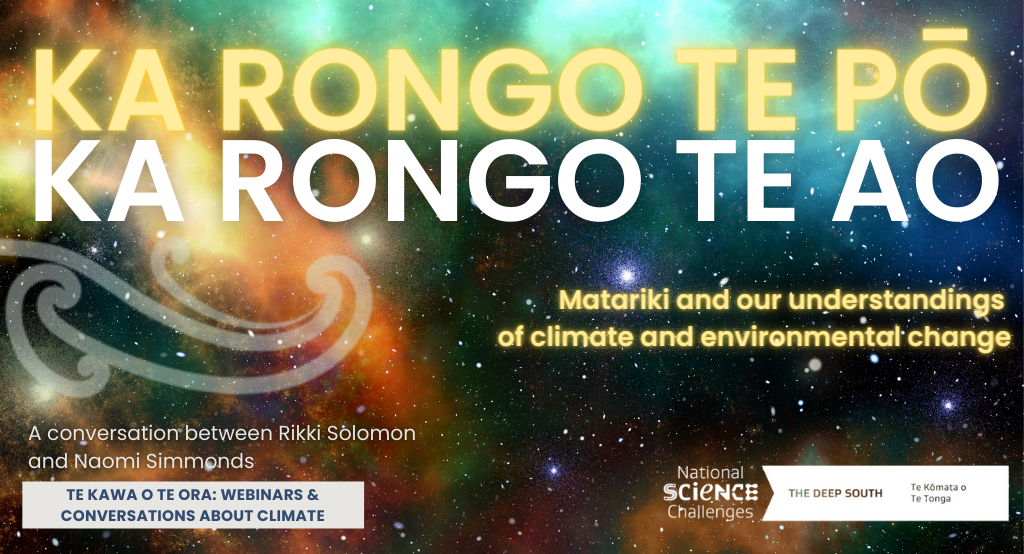 Matariki and our understandings of climate and environmental change
Join us this Matariki for a very special conversation between Rikki Solomon and Naomi Simmonds on Matariki, the maramataka and understanding climatic and environmental change.
Tuia ki te rangi, Tuia ki te whenua, Tuia ki te moana.
E rongo te pō, E rongo te ao.
It is written in the heavens, upon the land, and the ocean.
And balanced between night and day.
This whakatauākī is used to navigate the environment, aligning what is happening in the movements of the celestial bodies (the sun, moon and stars) with what is happening here on land and at sea. We can read 'what is happening' in the wind and tides, and in the behaviour of trees, plants, birds and fish, among other tohu. For Rikki Solomon, our guest speaker, this whakatauākī speaks to our ability to respond to climate change through our relationship with the taiao.
Rikki was raised under the korowai of his grandparents in a little place called Te Hauke. He grew up gardening and farming under the watchful eye of his grandfather Rutene (Charlie) Solomon. He learned the practical application of He Maramatanga Māori, or insight through the Māori calendar. Rikki notes, "The maramataka was a way of life for our tūpuna. It helped govern activities and actions that allowed them to stand firm within their environment as kaitiaki of 'te taiao' (the environment)."
We invite you to join us for this, the longest night of the year. Help us mark the winter solstice, Te Ihu o Hinetakurua, and enjoy this opportunity to consider our collective relationship with te taiao in times of rapid change.
ABOUT OUR PRESENTERS
Rikki Solomon
Ko Takitimu, me Māmaru, me Kurahaupō ngā waka.
Ko Orangi, me Omanuwhiri, me Ruahine ngā maunga.
Ko Te Ewe, me Waimahana, me Manawatu ngā moana.
Ko Ngāti Kahungunu, Ngāti Kahu ki Whangaroa, Rangitāne-o-Tamaki-nui-a-rua ngā iwi.
Ko Ngāi Te Ipu, me Ngāti Aukiwa, me Ngāti Pakapaka ngā hapū.
Ko Rikki Solomon tōku ingoa.
Rikki has over 25 years of experience working in the tangihanga industry as a kaimanaaki tūpāpaku (embalmer) and kaiatawhai (funeral director). Rikki also works as part of the Aronui team at Turuki Health Care and facilitates the maramataka wānanga with whānau. He also is a mataora (change agent) who practices the principles of Mahi-a-Atua within Te Kurahuna, facilitating the Maramataka.
Rikki is a graduate of He Waka Hiringa, Te Wānanga o Aotearoa. He is currently working towards his Doctorate of Indigenous Development and Advancement at Te Whare Wānanga o Awanuiārangi. His focus is on Ngā Kitenga o te Maramataka: Insights into the Maramataka (Māori lunar calendar) and its relation to whakamomori (suicide).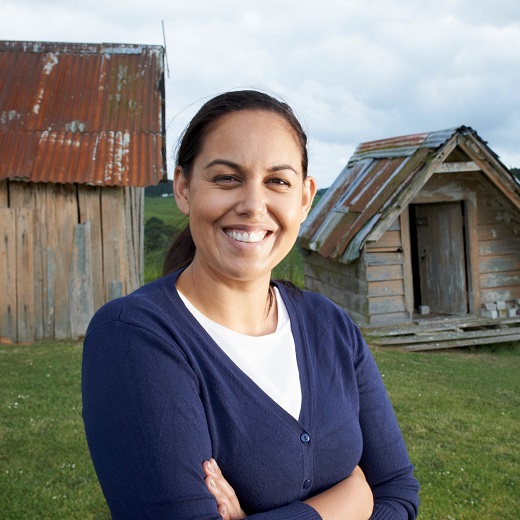 Naomi Simmonds
Naomi is a researcher and environmental specialist whose background is geography, environmental planning and kaupapa Māori. A member of both our Kāhui Māori and our Engagement Team, Naomi is also a co-director of Tūānuku Ltd. Naomi's research interests include Māori and Indigenous geographies, freshwater and iwi and hapū resource management, Māori maternities, whānau wellbeing and Indigenous methodologies.