AUTHORIs extreme weather the new normal?
Is extreme weather the new normal?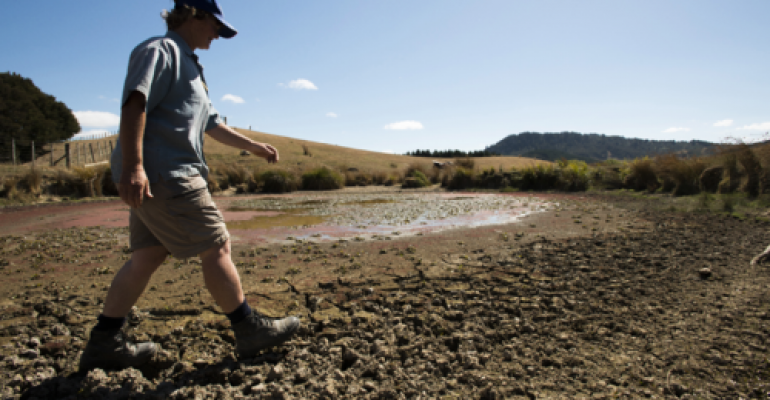 New Zealanders have just experienced one of the driest summers on record – great for beachgoers and cricket lovers, but far from ideal for farmers and orchardists relying on rain to maintain productivity.
This year's 'big dry' comes just two years after the last widespread summer drought, which is estimated to have cost the rural sector $1 billion in lost earnings.
New Zealand's climate appears to be changing. Droughts seem more intense and frequent, windstorms more violent, rainstorms and snowstorms more crippling. The rural sector in particular has faced unprecedented challenge brought about by recent extreme weather events.
So is this the new reality? Is our climate changing faster than first thought? How should the country respond to what's happening and prepare for what's yet to come?
Deep South, one of 11 National Science Challenges confirmed by the Government following wide stakeholder and public consultation, will seek answers to these critically important questions.
Professor David Frame, an internationally renowned climate researcher at Victoria University of Wellington, recently appointed Director of the NIWA-hosted Challenge, says scientists are making progress in understanding the links between extreme weather events and climate change.
"Climate scientists are adopting techniques from medical researchers to establish how the odds of various events, like droughts, are likely to change in the coming decades."
"We are making progress, but different events have different meteorological drivers, and in some cases we can't yet say as much as we would like because models can't yet simulate all the relevant features."
"What we can say, however, is that the extreme events we've experienced recently are a cause for people to think about how they prepare for a changing climate. Most New Zealanders now have an appreciation of the kind of weather the country could experience increasingly in the years to come. They understand the need to prepare for its impacts now."
Deep South will significantly intensify research into the nature of New Zealand's changing climate, and the likely impacts of that change on New Zealand society over the coming decades and centuries. Studies will focus on Antarctica and the Southern Ocean (our 'Deep South'), areas that play an important part in shaping weather systems and long-term climate patterns affecting New Zealand. Research in this part of the world has been piecemeal, or lacking altogether, until now.
Leading-edge technology, including a new Earth Systems Model that will utilise the advanced processing power of NIWA's supercomputer in Wellington, and unprecedented multi-sector collaboration will be keys to the success of the challenge.
"Deep South will bring together the country's most respected thought leaders working at the interface of science, business and public policy," says Roger France, Chairman of the Deep South Governance Board. "Their goal is to transform the way New Zealanders can adapt, manage risk and thrive in a changing climate. Their work will focus on drought, freshwater availability, flooding, coastal erosion and damaging storms, and their impacts on businesspeople, planners, regulators, Māori and New Zealand communities as a whole."
"This is an ambitious undertaking that has the potential to transform New Zealand society," says Dr Rob Murdoch, NIWA's General Manager of Research, who played a pivotal role in shaping the mission and terms of reference for Deep South. "We shouldn't underestimate the work involved but we believe that by combining our collective strength and expertise and directing it into world-class research projects we have the ability to address one of the world's most important issues."
Partners in the challenge are NIWA, Antarctica New Zealand, GNS Science, Landcare Research, New Zealand Antarctic Research Institute, University of Otago and Victoria University of Wellington.