AUTHOR"I am an optimist": Q&A with departing Challenge Manager, Lucy Jacob
"I am an optimist": Q&A with departing Challenge Manager, Lucy Jacob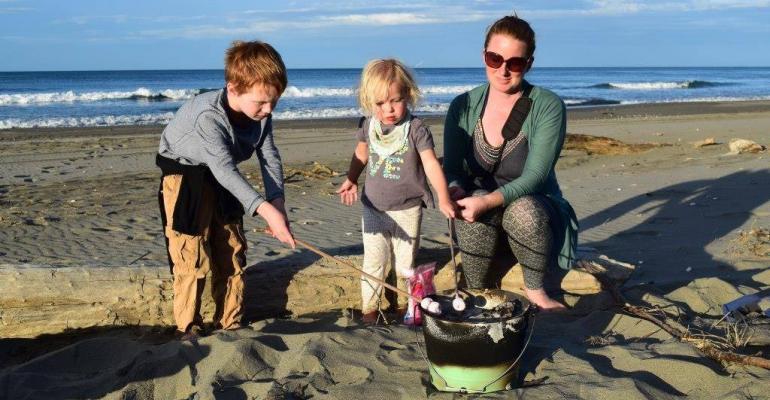 One of our key team members is wrapping up her work with us and moving on to a new challenge (this time with a lower case 'c'). Lucy Jacob, manager of the Deep South Challenge for the past two and a half years, has secured a role as Oceans Specialist with the World Wildlife Foundation. In this Q&A, we asked Lucy about her time in the Challenge and her plans for the future.
The National Science Challenges are creatures with multiple heads, arms, legs and hearts. What has been the most challenging part of your role as Challenge Manager?
As you say, there are many bodies to satisfy in the Challenge. Keeping on top of the many moving parts, ensuring we meet routine deadlines, constantly striving to improve the way we do things, while still working strategically, has been the biggest challenge. It's particularly tough, as everyone in the Challenge (including myself) works part time, and people are spread around the country (and in some cases, the world).
I believe in the vision of the National Science Challenges, and in being impact-driven, to ensure science is actually integrated into decision-making. Nevertheless, this is really hard to achieve! It has been wonderful to work with our evolving science leadership and engagement teams, and with researchers and organisations across New Zealand, to try to achieve our vision. I've seen real commitment to mission-led science across the National Science Challenges, which are growing in momentum. All this has made the Challenge an exciting thing to be a part of. I will miss the team hugely.
Is there one moment that stands for you as symbolising the Deep South Challenge?
The day that springs to my mind is when I attended a hui in Horowhenua to witness how one research team, funded through our Vision Matauranga programme, had worked with hāpu in this low-lying coastal community to identify their climate adaptation options. This research is truly innovative, in that it combines art, science, mātauranga Maori and landscape architecture. The team had cleaned up a series of disused dairy sheds, from where they presented their remarkable final exhibition. The community was present, and it was truly a privilege to attend. It was made even more remarkable when an ephemeral rainbow rose from the ground nearby.
We have since funded this team for the second phase of their research, which is working with the community to co-develop transition action plans.
After almost three years in the Deep South Challenge, tasked with the mission of supporting New Zealanders to adapt to our changing climate, how has your thinking changed about climate change or climate adaptation?
Prior to working with the Deep South Challenge, my experience of climate change came from working and living on coral reef islands. I was very aware of the risks of warming ocean temperatures and ocean acidification on coral reef habitats etc., and I'd worked a little with coastal communities susceptible to sea level rise.
But working in the Challenge has opened my eyes to the impacts and implications of climate change for urban communities, as well as to the challenge of adapting to an uncertain future while we lack a strong framework for doing so. This is an exciting time to be working in the climate change field, and as the role of the interim climate commission becomes clear, and the government moves forward on plans for a national risk assessment, it's my hope that adaptation planning will become easier for those at the forefront (for example, coastal dwellers or local governments).
Your background is both in experimental psychology and in marine science – particularly Marine Protected Areas in the Pacific. And you're returning to your field in your new role as Oceans Specialist with the World Wildlife Fund. Congratulations! What do you think you might bring from the Deep South Challenge into your new job?
My role with the Challenge has given me lots of transferable skills. For example, I now have a great understanding of the NZ science system and of how the multiple parts of government and science interact.
I've learnt a lot from the amazing people I've worked alongside, from our excellent science leads and engagement experts, to our Governance Group and Independent Science Panel. We have received consistently good advice on how to improve, which has also helped me build my skills and knowledge, including knowledge in earth system modelling, adaptation planning, kaupapa Māori principles, communications and much more!
On top of this, New Zealand is a relatively small place, and although my work in the Challenge hasn't been much in or around the ocean, I have met lots of people I will keep in touch with in my new role.
Finally, you've got two gorgeous young kids. What are your fears or hopes for the world (local or global) they will inherit from their parent's generation?
I am an optimist, and in some ways, I also think I'm in denial about what the future could hold for my children and grandchildren. I want to believe that they will be lucky enough to have the same experiences I have had.
I grew up with limitless fresh water to drink and bathe in. I've been around many oceans and rivers that have generally been healthy enough to support ecosystems and provide special recreational opportunities, although this is changing. My happy place (which is harder to get to now), is diving on a coral reef, schools of fish encircling me and sharks cruising by. It's still possible to find these places today, but I'm not sure if this will be the case in 30 years' time.
This is why I feel so passionate about taking my new job. My four year old is keen to come to work with me, as she's decided she wants to pick up every single piece of plastic, to stop it from entering the ocean. I believe we can change the course we're on, but that it requires everyone to swim in the same direction (this will make sense if you've seen Finding Nemo).
Even though she will be sorely missed, we wish Lucy every success in her new role. We'll be recruiting for a new Challenge Manager within the next month.