AUTHORDeep South Challenge Symposium
Deep South Challenge Symposium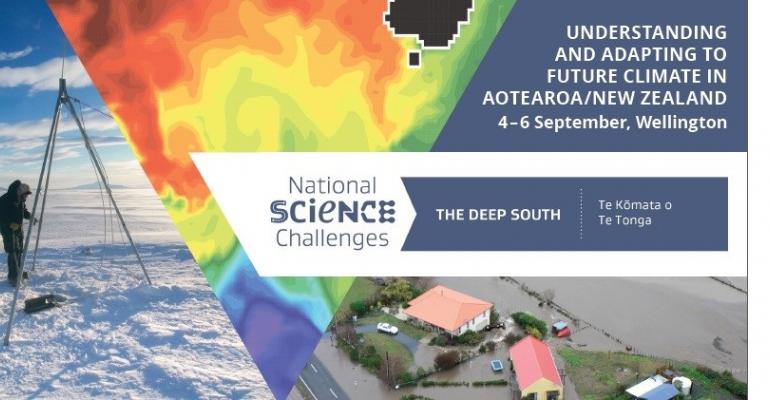 From September 4-6 2017, the Deep South Challenge will be holding our inaugural symposium, Understanding and Adapting to Future Climate in Aotearoa New Zealand.
The symposium will create a networking platform for stakeholders and scientists and strengthen links between researchers, enabling integration within and between the DSC programmes. There will be opportunities for in-depth and cross-disciplinary discussion, interaction and participation in a range of mini symposia.
Brief symposium outline
Day 1: Public and Stakeholder Day
This day will provide an update on the status of the Challenge for researchers, partners and Challenge stakeholders.  There will be time for stakeholders and scientists to exchange ideas and a cocktail function at Dockside Restaurant & Bar, 3 Queens Wharf
Day 2:
Science talks, posters and mini symposia
Day 3:
Science talks, posters, mini symposia and a session on the future direction of the Challenge
Keynotes
Sir Mark Solomon
Sir Mark is a professional director and Māori tribal leader of Ngāi Tahu and Ngāti Kurī descent. He is the former Kaiwhakahaere (Chair) of Te Rūnanga o Ngāi Tahu, director of Te Ohu Kaimoana (Māori Fisheries Trust), Chair of the New Zealand China Council, and a former director Museum of New Zealand Te Papa Tongarewa.
Nathan Bindoff (University of Tasmania)
Nathan Bindoff is Professor of Physical Oceanography at the University of Tasmania and a Chief Investigator in the ARC Centre of Excellence in Climate System Science. He was the Coordinating Lead Author for the oceans chapter in the Intergovernmental Panel on Climate Change (IPCC) 4th and 5th Assessment Reports. He is also a member of the Independent Science Panel for the Deep South Challenge.