AUTHORCongratulations to a successful Climathon 2016
Congratulations to a successful Climathon 2016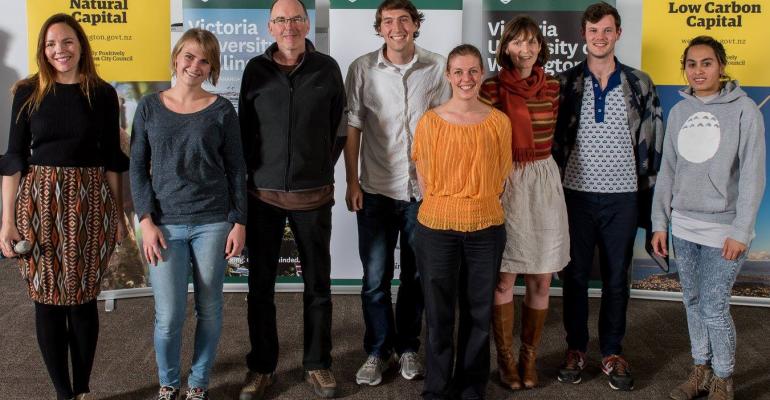 Two Climathon teams attracted the acknowledgement and ongoing support of the Deep South Challenge Engagement team whose goal it is to enable New Zealanders to make informed decisions in regard to climate change. The awards were presented by Rebecca Mills, strategist and Board member of the Deep South Challenge Board.
For the second year running, the Deep South National Science Challenge has sponsored and supported the Wellington event in an international initiative to get people thinking about mitigation and adaption in a changing climate. Major Justin Lester opened the event outlining Wellington's unique challenges such as its significant reclaimed land and vulnerability to sea level rise, also its adaptability; Wellington is a great city with potential to mobilise public support. Dave Frame, Professor of climate change at Victoria University and immediate past director of the Challenge, gave a whirlwind intro to set the scene and the challenge, noting sea level rise as the most significant challenge to Wellington's coastal capital by 2100. He highlighted the power of citizens to make a difference from the ground up and public action.
Ideas to help Wellington address climate change ranged from adaption ideas such rethinking the city's infrastructure, to activities that would help reduce waste that reach our landfills therefore reducing carbon emissions. The Deep South Challenge was particularly interested in projects that focussed on community engagement and enabled informed decision making. The Deep South Challenge also offered further mentoring and potential funding for projects that engaged with the public and helped them make climate related decisions. Two teams stood out with this kind of goal – one team will be exploring the possibility of a Wellington based online magazine to help people understand climate issues, and what they can do. The other team will look at developing a social application to connect interested people with climate related activities – noted the Tinder for climate. The Engagement programme, is particularly interested in using a range of technologies to reaching new audiences.
Climathon 2016 – in the media
Our Changing World – Alison Ballance reviews the Climathon on Radio New Zealand's Our Changing World. You can listen to the podcast here.
One News – Sean Hogan also attended and prepared a news report. View the One News video.
Access Radio – Prior to the Climathon event, Emily Grinter from VicLink and Bart De Vries from Motif were interviewed by Access Radio to outline the plan for the event. Listen to the Access Radio podcast.
Online climate magazine
Collaborate for change