AUTHORClimate Change and Mātauranga Māori
Climate Change and Mātauranga Māori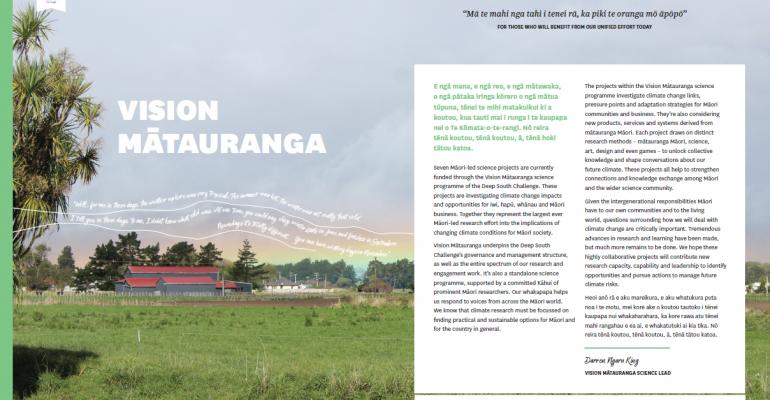 Seven kaupapa Māori climate change projects – a first for New Zealand climate research – to be celebrated at inaugural Deep South Challenge symposium.
Climate change is shaping up to be a key election issue, and Māori communities are bearing the brunt of the first waves of change.
On Monday 4 September, Tā Mark Solomon will address our inaugural Deep South Challenge symposium at the Wharewaka in Pōneke, about how New Zealand can and must change in line with our changing climate. 
The symposium will also be celebrating a milestone in New Zealand climate change research. Under the Vision Mātauranga science programme of the Challenge, seven Māori-led science projects are investigating climate change impacts and opportunities for iwi, hapū, whānau and Māori business. Together they represent the largest ever Māori-led research effort into the implications of changing climate conditions for Māori society.
"These projects investigate climate change links, pressure points and adaptation strategies for Māori communities and business," says Darren Ngaru King, Science Lead of the Vision Mātauranga Programme. "They're also considering new products, services and systems derived from mātauranga Māori. Each project draws on distinct research methods – mātauranga Māori, science, art, design and even games – to unlock collective knowledge and shape conversations about our future climate. These projects all help to strengthen connections and knowledge exchange among Māori and the wider science community."
Project leads include Sandy Morrison, Huhana Smith, Shaun Awatere and Wendy Henwood, all of whom will be available at the symposium to talk about their research and relationships with hapū and iwi Māori throughout the motu. It's rare to have so many distinguished Māori researchers in the same place and each is well placed to discuss local and national challenges Māori communities are facing in relation to climate change.