AUTHORBack to school – Antarctic style
Back to school – Antarctic style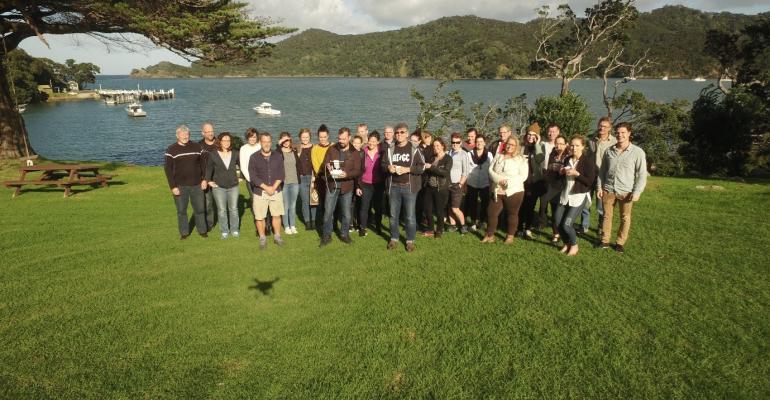 What's the next best thing to a visit to Antarctica? Attending the New Zealand Antarctic Research Institute's (NZARI) Winter School. Deep South Partnerships Director Susan Livengood goes back to school to find out more about Antarctica.
The Winter School, held on Great Barrier Island in May, provided a fascinating insight into cutting-edge science in Antarctica and an opportunity to take part in hands-on experiments with New Zealand scientists.
NZARI teams up with Antarctica New Zealand annually to give media, policy analysts, educators and sponsors a solid level on understanding of pressing issues for Antarctic ecosystems and how Antarctic research is contributing to a broader understanding of climate change.
This year's theme was 'Antarctic Ecosystems in a Changing World'. The school opened with an entertaining introduction to Antarctica by comedian Te Radar. This was followed by an overview of what climate change predictions mean for Antarctica by Professor James Renwick of Victoria University.
The next sessions examined how terrestrial, freshwater and marine ecosystems may respond to climate changes such as warming, increased carbon dioxide and ocean acidification. These sessions were led by several Antarctic scientists: Professor Craig Cary, of the University of Waikato; Dr Vonda Cummings, a marine ecologist at NIWA; and Professor Ian Hawes of the Gateway Antarctica Research Centre at the University of Canterbury.
Professor Gary Wilson, Director of NZARI and Professor of Marine Science at the University of Otago said, "Winter School aims to take a practical approach to help those who communicate Antarctic science to the wider-public through a series of speaking sessions which all have a practical component – for example learning how to model and interpret data, thus better understand the science.
"It is one of many efforts NZARI is making to improve the communication of topical Antarctic and Southern Oceans research to the wider community."
Find out more 
Visit the Antarctica NZ website 
Search for them on Facebook, Twitter and Instagram