Tania Hopmans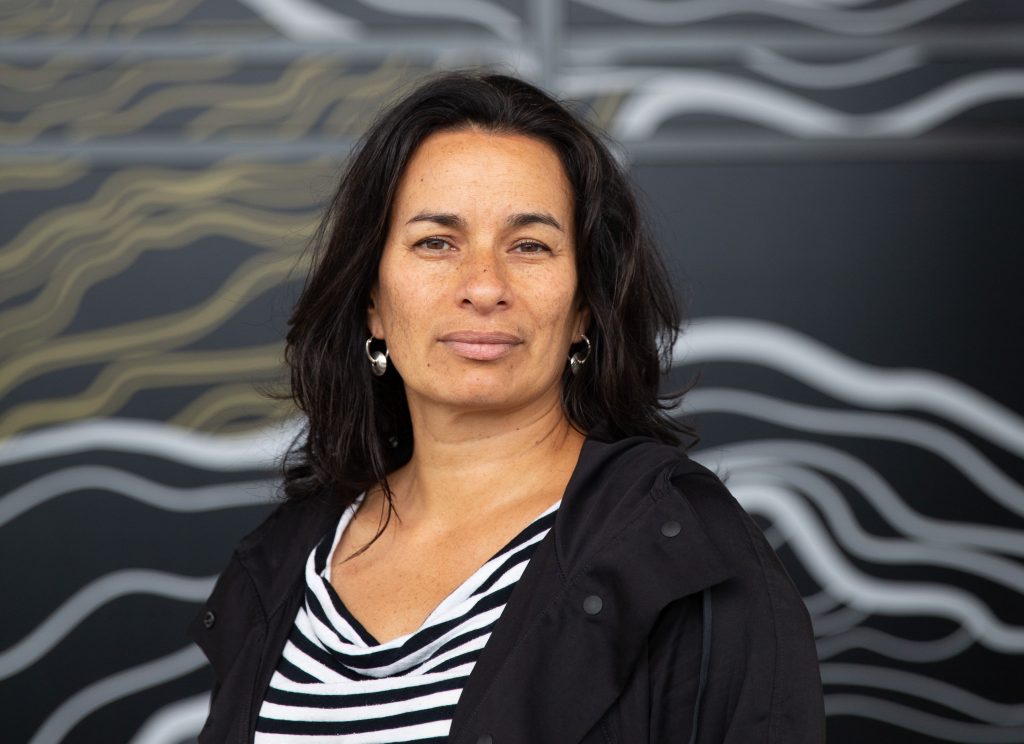 Tangoio marae sits on the frontline of climate change. As with the rest of the Hawkes Bay coastline, coastal erosion is an issue. But the main threat for the marae comes from flooding, and the potential for more severe flooding as the climate changes.
Tania Hopmans notes that her hapū has no choice but to adapt if they are to hold together. Fortunately, thinking on their feet is in their whakapapa.
Our tīpuna survived by adapting whenever they needed to, and we will too. They had a whakatauakī – ko tō rātau pā kai ngā rekereke – their pā were in their heels. They moved with the seasons to collect kai, they moved from one pā to a safer one following an attack.
Tangoio has a unique social and political history, as well as unique whenua, awa and moana whose voices must also be heard. Already, Tania explains, due to farming and plantation forestry, "most of the native bush is long gone. There's no riparian planting along our awa, so we have erosion of our whenua, sedimentation of our waterways and coastal reefs, and the obvious impact on our taonga species – including pātiki, tuna and kuku." The needs of the whenua and the hapū are now closely merged with the imperative to respond to climate change. "We need to return some balance to the environment," Tania says.
Tangoio (through the Maungaharuru-Tangitū Trust) partnered with NIWA and the Deep South Challenge on a project looking at how a marae community might make decisions about their key taonga, such as their wharenui, at risk in a changing climate. The research partnership was able to bring independence and information into a hapū discussion that was "fraught with some misinformation, strongly held views and emotions."
One highlight for Hopmans was a game the project developed called Marae-opoly. "We had teams of whānau with paper money making decisions about what to do with our marae. [We had] flood simulations over a 100-year period – the catch being you didn't know what the next 10 years would bring until the simulation played. The whānau really got into the gameand learned a lot about how complex the problems are – the pressures, costs and benefits of choosing an option, and dealing with the consequences. It was a safe environment for whānau to give it a go."
We need to return some balance to the environment.
In terms of research challenges, Tania notes that "the modelling looked at flooding from the river, but didn't take into account flooding from the hills, which we later learned had a significant impact on flood mitigation and what options would be viable."
From Tangoio's unique experience on the climate frontline, they have some advice for other marae communities facing similar decisions. "Have an agreed vision, values and guiding principles. You'll want to refer back to these when the going gets tough. Our vision was 'building a proud, vibrant and modern marae'. Our values included unity and being progressive. Our guiding principles were disciplined people, thought and action."
Crucial, Hopmans explains, is finding ways to include all voices. "Good decision making takes time and is hard work. It required us to invest in the best available information, to get help from a facilitator and other specialists, to test assumptions and engage in difficult conversations, and sometimes with difficult people." Yet for Tania, the urgency is clear. "Be brave, future generations are counting on you."
Tania is also skilled at stepping back and surveying the bigger picture for Māori communities and their respective local and regional councils, as we all adapt to climate change. "Marae are part of the communities you serve," she says. "Look after them, too… Don't focus your efforts only on protecting infrastructure or areas seen to be economically important. Nor on research for research's sake."