Research Programme

Earth System Modelling & Prediction
Budget

$1,900,000

Duration

2015-2019

Phase 1
Simulating New Zealand's changing climate
Establishing a New Zealand earth system modelling capability
A project which sits at the heart of the Deep South Challenge is the construction of the NZ Earth System Model (NZESM). The NZESM is a kind of crystal ball – a mathematical model of the earth's natural systems so intricate it can predict the effects of emissions from our atmosphere, land and seas, and the terrestrial and marine biosphere, far into the future.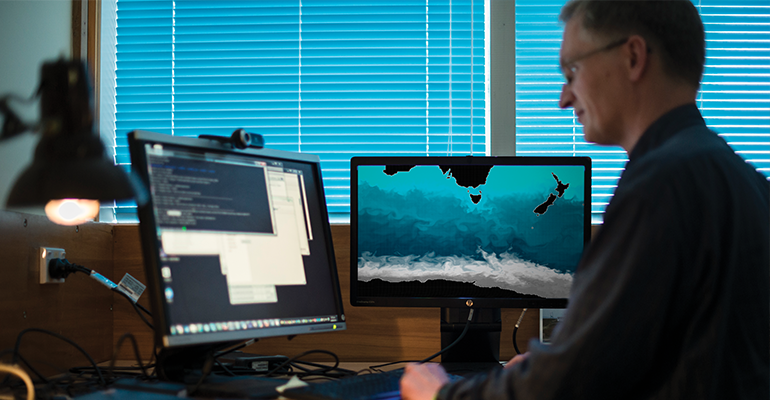 The two main aims of this major endeavour are to advance our fundamental understanding of important climate processes, and to predict New Zealand's future climate out to the year 2100.
Almost all of the world's climate modelling capacity is based in the northern hemisphere. Yet gaps in international observations and understandings of the deep south region (of great importance to global climate change) are reflected in projections of climate produced by these models. Our proximity means this particularly impacts the quality of climate projections for New Zealand.
In this significant endeavour – an international partnership led by the UK Meteorological Office – we're helping to develop a powerful climate model and are augmenting it with improved formulations of Southern Ocean and Antarctic processes, informed by Deep South Challenge observations, to develop a comprehensive tool for simulating climate – the NZESM. We're awaiting a new supercomputer – arriving in stages between late 2017 and early 2018 – which will greatly enhance our capacity to contribute to global understandings of climate change and make more accurate predictions of future climate in New Zealand and the Pacific.
By strengthening our ability to understand and anticipate our future climate, we're giving New Zealanders the best possible chance to adapt and manage risk in the years to come.
This project in the media: