Research Programme

Earth System Modelling & Prediction
Budget

$1,900,000

Duration

2015-2019

Phase 1
Simulating New Zealand's changing climate
Establishing a New Zealand earth system modelling capability
A project which sits at the heart of the Deep South Challenge is the development of the NZ Earth System Model (NZESM). An Earth System Model models our oceans, sea ice, land and atmosphere to understand how our climate will change under anthropogenic greenhouse gas emissions.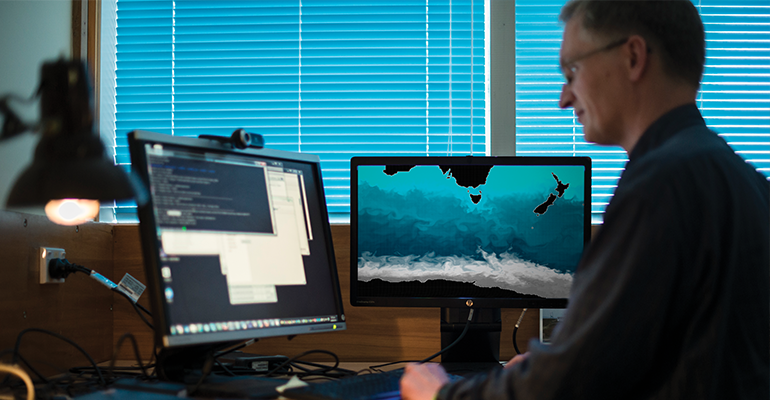 Gaps in international observations and understanding of the deep south region mean that Earth System models currently struggle to accurately represent aspects of the climate around New Zealand and the surrounding oceans, like the clean air over the Southern Ocean, or the behaviour of Antarctic sea ice.
Developing the NZESM means that New Zealand can contribute internationally to how we model processes critical to Southern Hemisphere climate and establish local expertise on how to understand and evaluate climate models and projections. Having an Earth System model "in-house" also means we can configure the model to best suit the needs of New Zealand. We are doing this, for example, by modelling the ocean at high-resolution around New Zealand to better simulate the complex ocean circulation around here.
This significant endeavour is supported by an international partnership with other weather and climate modelling centres led by the UK Meteorological Office. As the NZESM is based on the UK Earth System Model, we're also helping to develop the underlying atmospheric model known as the Unified Model, which is also used in several other climate and weather prediction modelling centres around the world.
By strengthening our ability to understand and anticipate our future climate, we're giving New Zealanders the best possible chance to adapt and manage risk in the years to come.
This project in the media:
RESOURCES FROM THIS PROJECT